CIDRA In Action
CIDRA has held several events in the last several months.
The first was at the Chicago Bar Association in February. Mr. Ramon Mullerat, O.B.E., was hosted by John Marshall Law School. He discussed the culture and attitudes of EU area lawyers and arbitrators towards arbitrating and mediating business disputes.
The second event featured Prof. Margaret Moses of the Loyola University Chicago School of Law. Professor Moses discussed her recent trip to Europe and Hong Kong, where she researched her new book, The Principles and Practice of International Commercial Arbitration, published by the Cambridge University Press. Professor Moses teaches various courses in international law at Loyola and is the head of Loyola's international program. In addition, Prof. Moses coaches the Vis Moot Court team, which competes in the annual Vis Mini-Moot sponsored in part by CIDRA. Contact CIDRA if you are interested in ordering a copy.
CIDRA members attended a lecture hosted at Jenner & Block by CIDRA Arbitrator Lawrence Schaner. The lecture featured Teresa Cheng, president of the Chartered Institute of Arbitrators, who discussed "the Possibilities of combining Arbitration and Mediation: the Perils and Opportunities."
CIDRA would like to thank the presenters and hosts.
---
Spotlight on China:

Susan Walker and Rod Heard Discuss Chinese Arbitration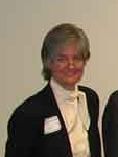 Susan Walker
In June, Rod Heard and Susan Walker gave a presentation to CIDRA about their recent visit to Hong Kong and China.
Ms. Walker, a FINRA arbitrator and adjunct faculty member at DePaul University College of Law, discussed arbitrating in Hong Kong. She highlighted important cross-cultural differences between legal systems. Chinese law, for example, tempers strict contract interpretation with strong notions of "fairness" and "compassion."
She also addressed substantive enforcement issues between Hong Kong and mainland China. Before 1997, Hong Kong was a signatory to the New York Convention through the UK, but since the turnover in 1997 has been a signatory through the People's Republic of China. A law was recently passed addressing the enforcement of a Hong Kong award on the mainland, but the practical effect of the law is still uncertain. Sue mentioned that the farther from the major commercial centers when seeking enforcement the harder it may be to convince a local judge to enforce arbitral awards.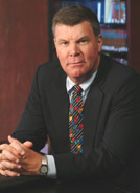 Roderic Heard
Mr. Heard addressed arbitration in mainland China. China is one of the most important markets for international business. Rapidly developing, China's presence in international arbitration practice is quickly growing. The most important arbitral body in China is CIETAC. Mr. Heard noted that despite some skepticism about CIETAC arbitrators' neutrality due to the group's proximity to government, as well as the overwhelmingly Chinese list of neutrals, CIETAC is working to improve its international stature and credibility. He attributes this to a group of young administrators who are traveling the globe and asking international arbitrators how CIETAC can improve. Similar to Hong Kong, questions remain about enforceability of an award in more remote provinces.